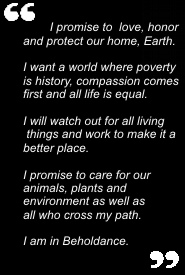 Winnings Fund African Service Project
1/07/2010
Read>>
Service Awards 2008-2009
7/30/2009
Read>>
Beholdance Youth Help Fight Hunger
3/17/2009
Read>>
Beholdance Presents 2007-2008 President's Volunteer Service Awards
9/14/2008
Read>>



Beholdance Awards Programs

PVSA, Presidential Volunteer Service Award



The President's Volunteer Service Award (PVSA) is issued by the President's Council on Service and Civic Participation on behalf of the President of the United States to recognize the best in the American spirit, and to encourage all Americans to improve their communities through volunteer service, and civic participation. Beholdance is pleased to be a Certifying Organization for the PVSA since 2007.




Beholdance Horizon Award

The Horizon Award was created to acknowledge an individual or group that has shown compassion and has had the vision to step forward and make a difference in the lives of others and/or for the planet.

To receive this award you must be nominated. All Nominations for the year must be turned in by May 1st. Please send nomination letters to info@beholdance.org with the subject marked, "Beholdance Horizon Nominee."

Beholdance Outreach Service Award



Beholdance Outreach Service Awards were proposed to the Beholdance Senior Advisory Board by the current Junior Advisory Board. The Senior Board felt it was such a wonderful idea and would encourage youth everywhere to get involved. The award was created to honor youth from all areas of the globe that participate in Beholdance Volunteer Service Projects. It rewards youth that help their neighbors and community and wish to help create a better world for all. This award is to encourage this strength in character for those that have the compassion and empathy to reach out and make a difference in the lives of others and for the planet.

The Outreach Awards are accumulative in nature to promote Beholdance Members to continue their outreach over extended periods of time. They have three levels: Gold (400 Volunteer Hours), Silver (225 Volunteer Hours) and Bronze (100 Volunteer Hours). It is issued as a gold, silver or bronze challenge coin.

The Senior Advisory Board has chosen to Grandfather this award to all members in all chapters. This means all hours in service to Beholdance from its creation, July 2007, will count toward this award.



To find out more about Beholdance and it's youth service programs, please contact info@beholdance.org.



Nov 2011 Newsletter
Ducktona Dash
Fire Dept. Open House
Crop Walk
Storm Drains / Soup Sampling
Pic Worth 1,000 Words
K9 Krunchies Top 22,000
Save Wildlife



NEWSLETTERS





Dreams 2010
2010.05.20
(729KB)




Earth Day 2010
2010.04.20
(5310KB)



[1367KB]

[3486KB]

[1460KB]

Reflections


2008.09.16
[1140KB]









"Thoughts lead on to purpose,
purpose leads on to actions,
actions form habits,
habits decide character, and
character fixes our destiny"
~Tryon Edwards

Top Endangered

Black Rhino
Giant Panda
Bengal Tiger
Beluga Sturgen
Golden Seal
Alligator Snapping Turtle
Hawksbill Turtle
Big Leaf Mahogany
Green Cheeked Parrot
Mako Shark