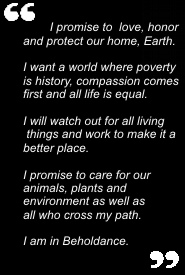 Winnings Fund African Service Project
1/07/2010
Read>>
Service Awards 2008-2009
7/30/2009
Read>>
Beholdance Youth Help Fight Hunger
3/17/2009
Read>>
Beholdance Presents 2007-2008 President's Volunteer Service Awards
9/14/2008
Read>>


Injunction for Wolves in the Northern Rockies

| | |
| --- | --- |
| | |
| | Status: Beholdance Watch |

An injunction has been issued for the Gray Wolves in the Northern Rocky Mountains. Montana, Idaho and Wyoming as well as parts of Washington, Oregon and Utah are included. The wolves were on the ESA and then delisted in March of 2008.

The wolves could be killed if caught attacking, wounding or chasing livestock or domestic animals if reported withing 24 hours and the scene not disturbed. Claims have been made that the wolves have increased in number and that deer and elk numbers are declining due to their presence. This is untrue if you look at wildlife reports.

We urge everyone to keep a close eye on the Gray Wolves because after the close extinction of the Red Wolf in North America, we need to protect these two species.





Nov 2011 Newsletter
Ducktona Dash
Fire Dept. Open House
Crop Walk
Storm Drains / Soup Sampling
Pic Worth 1,000 Words
K9 Krunchies Top 22,000
Save Wildlife



NEWSLETTERS





Dreams 2010
2010.05.20
(729KB)




Earth Day 2010
2010.04.20
(5310KB)



[1367KB]

[3486KB]

[1460KB]

Reflections


2008.09.16
[1140KB]









"Thoughts lead on to purpose,
purpose leads on to actions,
actions form habits,
habits decide character, and
character fixes our destiny"
~Tryon Edwards

Top Endangered

Black Rhino
Giant Panda
Bengal Tiger
Beluga Sturgen
Golden Seal
Alligator Snapping Turtle
Hawksbill Turtle
Big Leaf Mahogany
Green Cheeked Parrot
Mako Shark