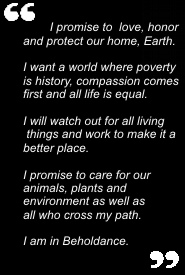 Winnings Fund African Service Project
1/07/2010
Read>>
Service Awards 2008-2009
7/30/2009
Read>>
Beholdance Youth Help Fight Hunger
3/17/2009
Read>>
Beholdance Presents 2007-2008 President's Volunteer Service Awards
9/14/2008
Read>>


| | |
| --- | --- |
| | |
| | Status: Beholdance Watch |

Extension for Beluga Whales in Cook Inlet


The NOAA Fisheries Service is extending the decision on the Cook Inlet Whale Listing for up to six months, which will give NOAA researchers time to prepare a 2008 population estimate before the agency decides whether or not to list the population under the ESA. Last year, biologist for NOAA estimated the population to be around 375. For the population to maintain and grow the whales desperately need to be placed under the ESA. This extra time gives researchers the chance to see if they should be placed on the Endangered Species Act.

NOAA received over 180,000 responses during their public comment period. Our letters were part of that number and have assisted in the extension of the time to determine the whales ranking.


Nov 2011 Newsletter
Ducktona Dash
Fire Dept. Open House
Crop Walk
Storm Drains / Soup Sampling
Pic Worth 1,000 Words
K9 Krunchies Top 22,000
Save Wildlife



NEWSLETTERS





Dreams 2010
2010.05.20
(729KB)




Earth Day 2010
2010.04.20
(5310KB)



[1367KB]

[3486KB]

[1460KB]

Reflections


2008.09.16
[1140KB]









"Thoughts lead on to purpose,
purpose leads on to actions,
actions form habits,
habits decide character, and
character fixes our destiny"
~Tryon Edwards

Top Endangered

Black Rhino
Giant Panda
Bengal Tiger
Beluga Sturgen
Golden Seal
Alligator Snapping Turtle
Hawksbill Turtle
Big Leaf Mahogany
Green Cheeked Parrot
Mako Shark